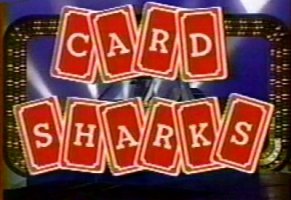 ---
April 24, 1978 - October 23, 1981
NBC Daytime Game Show

Host:
Jim Perry

Card Dealers:
Ann Pennington
Janice Baker
Lois Areno
Kristin Bjorklund
Melinda Hunter
Markie Post

Announcers:
Gene Wood
Jack Narz
Charlie O'Donnell
Johnny Olsen
Jay Stewart
Bob Hilton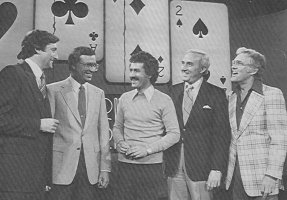 Pictured above: Jim Perry, Jim Lange, Alex Trebeck, Jim Clark,
and Tom Kennedy, from a week honoring game show greats.

Two contestants competed to complete a block of five
consecutive playing cards by guessing whether the next
card to be unveiled would be higher or lower than the
last one. To earn control of the board, one player
predicted how many people out of one hundred would
answer a question a certain way. An opponent then
predicted whether the actual number would be higher
or lower. The player whose prediction was closest
played the card. The first player to win two games
became champ and played the "Money Cards."

January 6, 1986 - March 31, 1989
CBS Daytime Game Show

Hosts:
Bob Eubanks
Bill Rafferty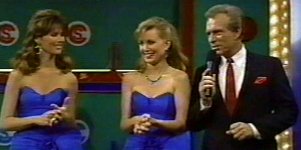 Card Dealers:
Lacey Pemberton
Suzanna Williams

Announcers:
Gene Wood
Bob Hilton
Charlie O'Donnell

Game was played the same as the earlier NBC version.


Click HERE to download theme song.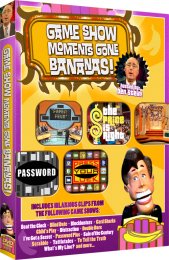 Click on the image above to purchase Game Show Moments Gone Bananas!

Click HERE to order Game Show videos!
---

Card Sharks
By Arnold Edwards

Card Sharks
From TV.com

Card Sharks
From Wikipedia

Card Sharks
By Ranger Ian

Card Sharks
By Caleb Craig Nelson

The Card Sharks Site
By David Livingston
These links were last tested March 2001.