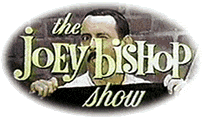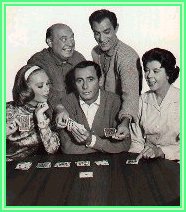 ---
September 20, 1961 - September 7, 1965
NBC & CBS Situation Comedy - 123 Episodes

Cast:
| | |
| --- | --- |
| Joey Barnes: | Joey Bishop |
| Ellie Barnes: | Abby Dalton |
| Larry Barnes: | Warren Berlinger |
| Mr. Jillson: | Joe Besser |
| Charles Raymond: | Bill Bixby |
| Mrs. Barnes: | Madge Blake |
| Frank: | Joe Flynn |
| Dr. Sam Nolan: | Joey Forman |
| J.P. Willoughby: | John Griggs |
| Barbara Simpson: | Nancy Hadley |
| Freddie: | Guy Marks |
| Larry Corbett: | Corbett Monica |
| Stella Barnes: | Marlo Thomas |
| Hilda: | Mary Treen |
| Betty: | Virginia Vincent |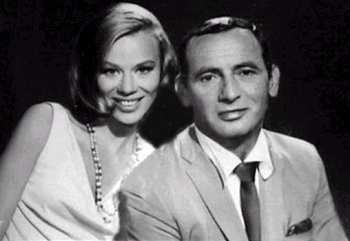 Format One (1961-1962):
A Spin-off from the Danny Thomas Show, Bishop played
Joey Barnes, a Hollywood PR man who had nothing but
troubles working with the ad agency of Wellington,
Willoughby and Jones. Joey, was a softhearted, nice
guy who had tried to build up his importance in the
eyes of his family. Unfortunately, the members of his
family often tried to take advantage of Joey's
nonexistent influence with the big names of show
business, and Joey spent much of his time in hot water
while trying to help out his family. The program seemed
to have too many characters, and by the middle of the
first season, four of them were gone; Joey's older
sister Betty; her husband Frank, an unsuccessful salesman;
Mr. Willoughby's Secretary, Barbara; and Willoughby himself.
Joey's mother, stagestruck sister Stella, and kid brother
Larry remained to the end of the first season.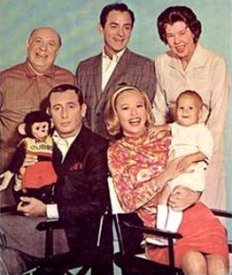 Format Two (1962-1965):
Joey Barnes was now the host of a talk program that
originated from New York. Stories revolved around his
personal and professional life as a TV celebrity, and
many guest stars appeared, playing themselves. Joey was
now married to a Texas girl named Ellie, had a manager
named Freddie, and lived in a fancy Manhattan apartment.
In 1963 Ellie gave birth to a baby boy, who was later
seen on the show, played by Abby Dalton's real-life
infant son. Dr. Sam Nolan, a pediatrician neighbor,
was added to the cast in 1964.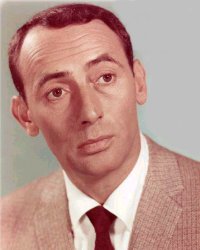 Click HERE to download theme song.
(Theme song provided by Todd Fuller's Sitcoms Online.)

Click on the image below to purchase
The Joey Bishop Show - The Complete Second Season DVD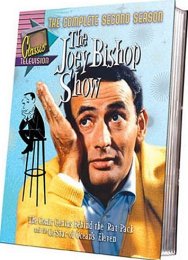 Click HERE to purchase TV books and videos!
---

The Joey Bishop Show
From Classic TV Hits

The Joey Bishop Show
From TV.com

The Joey Bishop Show Message Board
From Todd Fuller's Sitcoms Online

Joey, Joey, Joey
By Eric
These links were last tested September 2001.
---
Check out these classic TV Guide covers...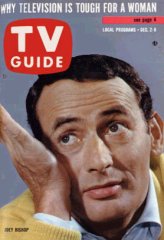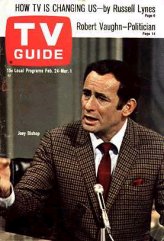 ---