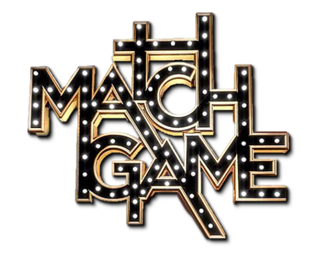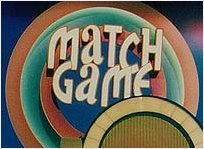 ---
December 31, 1962 - September 26, 1969
NBC Daytime Game Show




Host:
Gene Rayburn

Announcers:
Johnny Olsen
Wayne Howell

Two teams, each composed of a celebrity guest and two
studio contestants, tried to match answers to a question
for cash prizes. If two players matched, the answer was
worth twenty-five points and if all three players matched,
it was worth fifty points. The first team to reach one
hundred points won the game and $100. The winning team
then went on to play the "Audience Match," where each
correct guess about how the studio audience would
respond earned $50.

Click HERE to download theme song.



July 2, 1973 - April 20, 1979
CBS Daytime Game Show - 1970 Episodes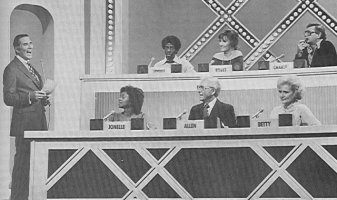 Host:
Gene Rayburn

Announcer:
Johnny Olsen

Regulars:
Richard Dawson
Brett Somers
Charles Nelson Reilly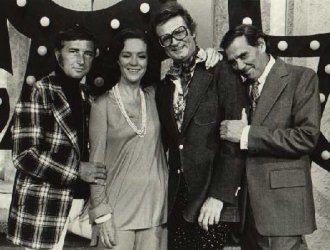 "The Match Game" returned to television four years later
with a revised format. First called "Match Game 73" with
annual numerical updates, this versino featured two studio
contestants and six guest celebrities. The contestant with
the most matches after playing two rounds of questions won
the game and played the Audience Match where he or she
tried to guess the audience's response to a fill-in
question for either $500, $250, or $100. Three celebrities
were chosen to give suggested answers. The contestant could
either pick one or create a new one. The player was then
given the opportunity to win ten times the money won on
the first part of the audience match by matching one
celebrity head-to-head on another fill-in question.

A weekly primetime version called "Match Gane P.M.," was
syndicated from September 1975 to September 1981.

When CBS dropped the daytime version in April 1979, the
show continued with new daily episodes for syndication
until September 1982.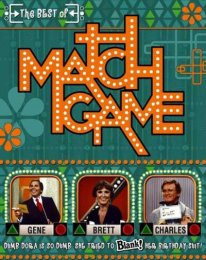 Click on the image above to purchase The Best of Match Game DVD Collection!

Match Game returned October 31, 1983 to July 27, 1984
as part of "The Match Game-Hollywood Squares Hour" on
NBC with hosts Gene Rayburn and Jon Bauman.

Click HERE to download theme song.



July 16, 1990 - July 12, 1991
ABC Daytime Game Show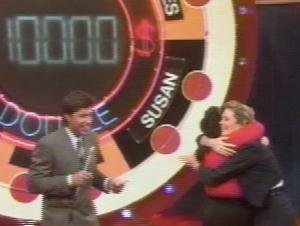 Host:
Ross Shafer

Announcer:
Gene Wood

Regulars:
Brett Somers
Charles Nelson Reilly
Dana Fleming
Ilene Graff
Pam Stone

This edition also featured two contestants trying to
match answers with six celebrities for $50 per match.
After each player completed a question, they both
participated in a new feature, "Match Up." Playing one
at a time, each contestant selected one celebrity and
in thirty seconds the celebrity tried to guess which
of two possible answers the contestant had picked.
Players received $50 for each successful guess. A
second round was then played for dollar amounts worth
double the amounts of that in the first. The winner
of the day then played "Big Money Super Match"
for additional cash.

Click HERE to download theme song.



1998 - 1999
Syndicated Game Show



Host:
Michael Burger

Regulars:
Vicki Lawrence
Nell Carter
Judy Tenuta
George Hamilton

This new series of Match Game is based on the classic
fill-in-the-blank game show from Mark Goodson Productions
which was the most popular daytime game show of all time.

Click HERE to download theme song.




Click HERE to order Game Show videos!
---

Brett Somers
By TV Party

The Gene Rayburn Page
By Matt Kaiser

Match Game.org
By Brian Conroy

The Match Game
From TV.com

Match Game 75/Match Game PM
By Curt Alliaume

Match Game '97
By Unknown

Match Game Home Page
By Chris Lambert

Match Game Mania
By Ryan Dziodosz
These links were last tested July 2001.
---
Check out this classic TV Guide cover...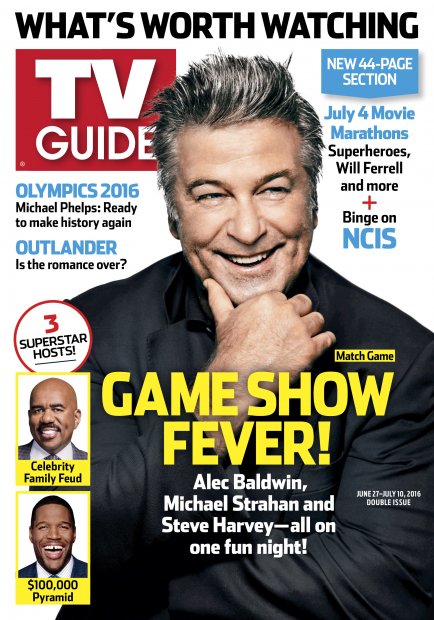 ---