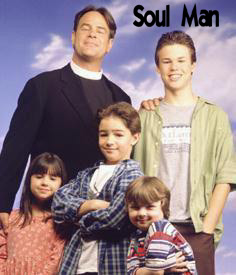 ---
April 15, 1997 - September 15, 1998
ABC Situation Comedy
25 Episodes

Cast:
| | |
| --- | --- |
| Rev. Mike Weber: | Dan Aykroyd |
| Kenny Weber: | Kevin Sheridan |
| Andy Weber: | Brendon Ryan Barrett |
| Meredith Weber: | Courtney Chase |
| Fred Weber: | Spencer Breslin |
| | Michael Finiguerra |
| Bishop Jerome: | Dakin Matthews |
| Melinda McGraw: | Bridgette Collins |
| Nancy Boyd: | Helen Cates |
| Father Todd Tucker: | Anthony Clark |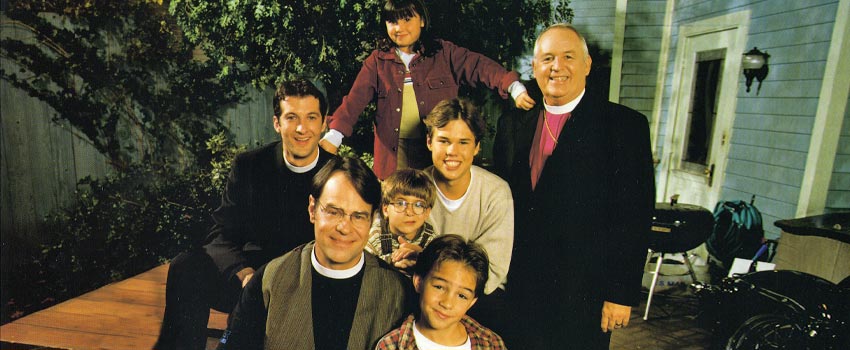 This short-lived '90s Disney sitcom served as a spin-off
of Home Improvement. Soul Man was a gentle comedy about
the homelife and worklife of a widowed Episocopal minister
raising four kids in Detroit, Michigan. Reverend Mike had been
something of a "wild child" in his younger days, motorcycle-
riding, leather-jacketed, hanging out with the wrong crowd. Now
he had to try to be a role model to his 4 rambunctious children:
Kenny, the selfish teen, who thought church was dumb; Andy,
the angelic little devil who was always trying weird experiments;
and Meredith, the 8-year-old who lived to torture Fred, the
youngest. His supervisor was straight-laced Bishop Jerome,
who didn't approve of Mike's earthy sermons and little jokes,
such as the devil hand puppet or taking phone calls while in the
pulpit. Melinda, a snooping reporter who seemed to want to make
Mike look bad in the paper, was a romantic interest.

Click HERE to download theme song.
(Theme song provided by Todd Fuller's Sitcoms Online.)



Click HERE to purchase TV books and videos!
---

Episode Guide
From EpGuides.com

Soul Man
From TV.com

Dan Aykroyd
From Wikipedia

Soul Man
From The Internet Movie Database


These links were last tested May 2016.